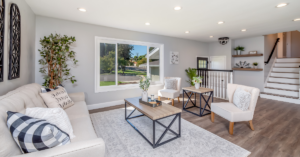 Home staging is the process of preparing a home for sale in the real estate market. Staging helps your home appeal to the most significant number of potential buyers (or renters), which will help you sell or rent your house faster and for more money.
Not all sellers or landlords stage their properties, particularly homes in lower price ranges, so if you take the extra step of staging your home, you'll have a leg up.
Staging your home for a 3D virtual real estate tour is almost identical to staging a home for an agent taking potential buyers for a tour. Keep in mind; the 3D camera sees everything you can see. The 3D virtual photographer who creates the Matterport tour of your property will use a 3D camera mounted at eye level while taking dozens (or even hundreds) of scans of your home that will be converted into a three-dimensional "dollhouse" style map of your home.
Here's how real estate staging works.
Here are some of the most important takeaways:
The term "home staging" refers to making your home appealing to the greatest number of potential buyers, who are prepared to pay the most money.

Staging may be one of the most profitable projects you'll ever undertake compared to the amount of time and money needed.

The living room, kitchen, bathrooms, bedrooms, and outdoor living spaces are all crucial elements to consider while staging your home.

Decluttering, cleaning, replacing your appliances to make them appear new, and removing personal items like photos and monogrammed towels are just a few suggested house staging ideas.

When combined with staging your home, a professional 3D virtual tour can greatly increase the sale price while decreasing its time on the market.
What Is Staging?
Real estate staging is "a form of visual merchandising that draws on some of the fundamentals of interior design," says Gordon Roberts, a Sotheby's International Realty realtor. "The object of staging is to flatter the property but not be too obvious about it, like being dressed without drawing particular attention to what you're wearing." 
Staging your house is not the same as decorating. Personal style is involved in decorating, whereas real estate staging aims to make your home attractive to the broadest audience of potential buyers or renters.
There's nothing more important than good staging. It hides the faults of the home while nevertheless showing off its positive characteristics, transforms odd places into usable areas, generates a mood (stagers refer to it as "emotional" or "psychological" staging), and makes the property appear several times better in photos.
Why Is It Necessary to Stage Your Home?
When it comes to such a significant financial transaction as the sale of a home, you don't want to accept a lower selling price or a longer marketing time than is absolutely necessary.
Potential purchasers are not only looking for a house to live in; they're also seeking for a means to realize ambitions and improve their life. As a result, staging may increase the buyer's emotional involvement and profits for the seller.
Home staging is also helpful since potential buyers don't want to see work that has to be done upon moving in. They will deduct the cost of any problem they encounter from their offering price. If they discover too many issues, they may decide not to buy the property.
How Staging Affects Sale Price and Time on Market
According to the 2019 Profile of Home Staging, 25% of buyers' agents and 22% of sellers' agents said that staging a home increases the offer price by between 1% and 5%, compared to other similar homes on the market that aren't staged.
According to the survey, 83 percent of buyer's agents believe staging makes it easier for purchasers to imagine a property as their future home, which can help sell houses faster. In addition, more than half of sellers' agents said staging reduced the amount of time on the market, according to the study.
Recent events have altered the purchase and selling process; especially the way properties are staged. More homeowners are undertaking DIY house staging (rather than hiring a professional stager) and limiting the number of visitors allowed to visit the home for in-person viewings. On the other hand, staging is still an important instrument since a well-staged property appears better in photographs—and most purchasers are searching for houses online.
When paired with a 3D virtual real estate tour, potential buyers or renters can do a virtual walk-through of your property from anywhere in the world. They can navigate through the property on their smartphone, tablet, or laptop as if they were walking through it with a realtor.
Staging Your Home: 12 Tips to Help You Sell It Faster
The majority of staged rooms, according to the NAR, are the living room (93%), kitchen (84%), owner's bedroom (78%), and dining room (72%).
Of course, the amount of staging that is necessary for your property is determined by time and money. Try to use the tips outlined below in your house as many rooms as you can manage with time and money.
Clean
A clean house may demonstrate to potential purchasers that you've taken good care of the property. Therefore, you should clean every inch of your home, from the floor to the ceiling—and everything in between.
If you don't have any new kitchen equipment, keep the old ones clean. Similarly, make sure your bathrooms are gleaming, from the corner of the tub to the drain to that area behind the toilet where you think no one can see. But, again, your objective should be to make everything seem brand-new.
Declutter
Clutter has two significant drawbacks. One is that it detracts attention away from your property's characteristics. The second is that it gives the impression that the home is smaller.
It's time to box up and store the items you don't need daily (think: knickknacks, games, papers, seasonal clothes, and messy hobbies). It's also time to get rid of things like the kids' clothing and toys they've long outgrown: the more empty storage space you have, the better.
Depersonalize
Buyers must be able to picture themselves living in your home, so take down all family photographs, mementos, and refrigerator art. Similarly, keep clothing hidden away as much as possible, and make sure the bathroom surfaces are clear of anything except hand soap (of course). Put everything else that is personal or emotionally evocative in its proper place.
Focus on fresh
A few potted plants might transform your house into a more attractive environment. If you have a lot of plants, arrange them so that they do not overpower any area (unless you have a greenhouse). Of course, dead and dying plants don't make your home appear well cared for.
Define rooms
Make sure that each room has a single, defined purpose. And make sure that every space within each room has a purpose. This will help buyers see how to maximize the home's square footage. For example, if you have a finished attic, make it into an office. A finished basement can become an entertainment room, and a junk room can be transformed into a guest bedroom.
Make sure that every area within the rooms meets a need. This will assist potential buyers or renters determine how to make the most of the home's square footage. For example, take advantage of your attic as an office if you have one. A finished basement might become an entertainment area, and a junk room may be converted into a guest bedroom.
Even if the buyer doesn't intend to use the room for what it was intended, the most important thing is that they understand that every square inch of the property may be used. This includes alcoves, window seats, corners, breakfast nooks, and other places.
Wallpaper and paint
It is unlikely that a potential buyer will like your choice of wallpaper. Tearing it down and painting the walls is typically your best option. It's best not to paint over the wallpaper because doing so might make it appear old and indicate that future work may be required.
The majority of people considering purchasing your home will not want to hire someone to paint it. Custom paint colors may be off-putting for potential buyers. You might like your orange bathroom, but tastes in color are highly personalized and particular. White walls seem to provide a blank canvas on which consumers may envision their own decor and offer them an easy starting point. Still, warm, neutral hues are preferable to make the home more desirable to potential buyers.
Flooring
Nobody wants to spend time cleaning filthy, stained carpet, especially if someone else caused the mess. Linoleum, on the other hand, is old-fashioned and appears cheap. Although they are costly, hardwood floors provide value and elegance to a home. They are also low-maintenance and offer long-term value while remaining allergy-friendly. In other words, they appeal to almost everyone and will be easily covered by the buyer and preserved for future use if not.
If you want to put hardwood floors in your home, make sure the common rooms, such as the living room, dining room, and kitchen, are your primary concern. If at all feasible, improve the bathrooms as well. They have a tiny floor space compared to other areas in the house and thus won't be too costly. Use ceramic tile or stone in kitchens and bathrooms if you can afford it; otherwise, use low-cost vinyl tiles that resemble these more expensive materials.
Lighting
Take advantage of your home's natural light. When a professional 3D virtual photographer scans your home to create a virtual tour, you want to see as much light as possible. Therefore, we will turn on all lights (including those in closets) and typically open curtains and window blinds (unless there are unsightly objects outside that can be seen by the 3D camera) to make your house look brighter and more inviting.
If you don't feel that your present fixtures are adequate, dust them and clean any debris off of them. Otherwise, replacing old or broken light fixtures is inexpensive and straightforward.
Ceiling fans will need to be turned off during the virtual tour scan, or the spinning blades create a black/blurry spot at the top of the tour, making the 360° virtual tour less flattering.
Furniture
Make sure the furniture is the right size for the space and that you don't fill it with way too much stuff. Too much furniture will make a room appear cramped, while inadequate or lacking furnishings might create a chilly atmosphere.
Don't skimp on the furniture, either. You don't have to spend a lot of money to replace your current furnishings—and you may even be able to rent some. Make sure the furniture is clean, tidy, and welcoming-looking in any case. Pillows with contrasting hues and brightness can help bring texture and drama to your space.
In addition to providing privacy, nooks and crannies can be used to display objects or serve as storage spaces. Finally, arrange the furniture in a manner that makes each room seem larger, cozier, and easier to traverse. For example, in the living room, sitting should be arranged to create a pleasant conversation location.
Walls and ceilings
Cracks in the walls or ceiling are red flags for buyers since they might signal foundation issues. If your home has foundation problems, you'll either need to fix them or disclose them to potential buyers; repairing any underlying foundations would be preferable for getting it sold. Repair any cracks in the foundation before scaring off purchasers for no reason if the foundation is only unsound but appears sound after an inspection.
Exterior
We're also available to take professional photos of the exterior if you're interested.
The outside and the entryway are essential factors to consider since they may significantly impact a buyer's first impression. They might even influence whether or not someone wants to see the interior of the home.
When staging your home for a virtual tour, potential buyers won't be looking at the outside much, so focus on getting the interior looking great before the virtual tour.
Ensure your grass, hedges, trees, and other plants are neatly trimmed and that any weeds have been removed. Wash all of the windows thoroughly and consider adding flower boxes to make them even more cheerful. Power washing your home's exterior can make it appear almost freshly painted while taking less time and expense than painting it yourself.
Ensure the driveway leading up to the home is free of debris and mud, and replace any worn doormats with new ones on the front and back doors. If you have a pool, make sure it's crystal clear. Another approach to utilize your house's outside to its greatest potential is to build an outdoor patio or deck with outdoor furniture in your backyard.
Final touches
Make sure your staging efforts have the most impact possible just before an open house or showing with a few last-minute touches that will make the property seem cozy and inviting. Placing fresh flowers, for example, in vases, lighting some candles, and replacing old, rough towels with new, fluffy ones in the bathrooms are all good ideas.
3D virtual tours allow you to stage the house only once before the 3D tour is created, while in-person tours require the property to remain in the same fresh, clean, organized condition as each new potential buyer or renter visits the property.
The Bottom Line
Even if you have plenty of cash, don't put too much money into the staging process. Of course, you want to highlight the home's finest features, but keep in mind that what sells and makes the property usable for a buyer is not necessarily the same thing. Overall, to get the greatest return on investment from your home staging efforts should be designed to appeal to the broadest possible range of buyers. The greater number of people interested in purchasing your house, the more it will sell for.